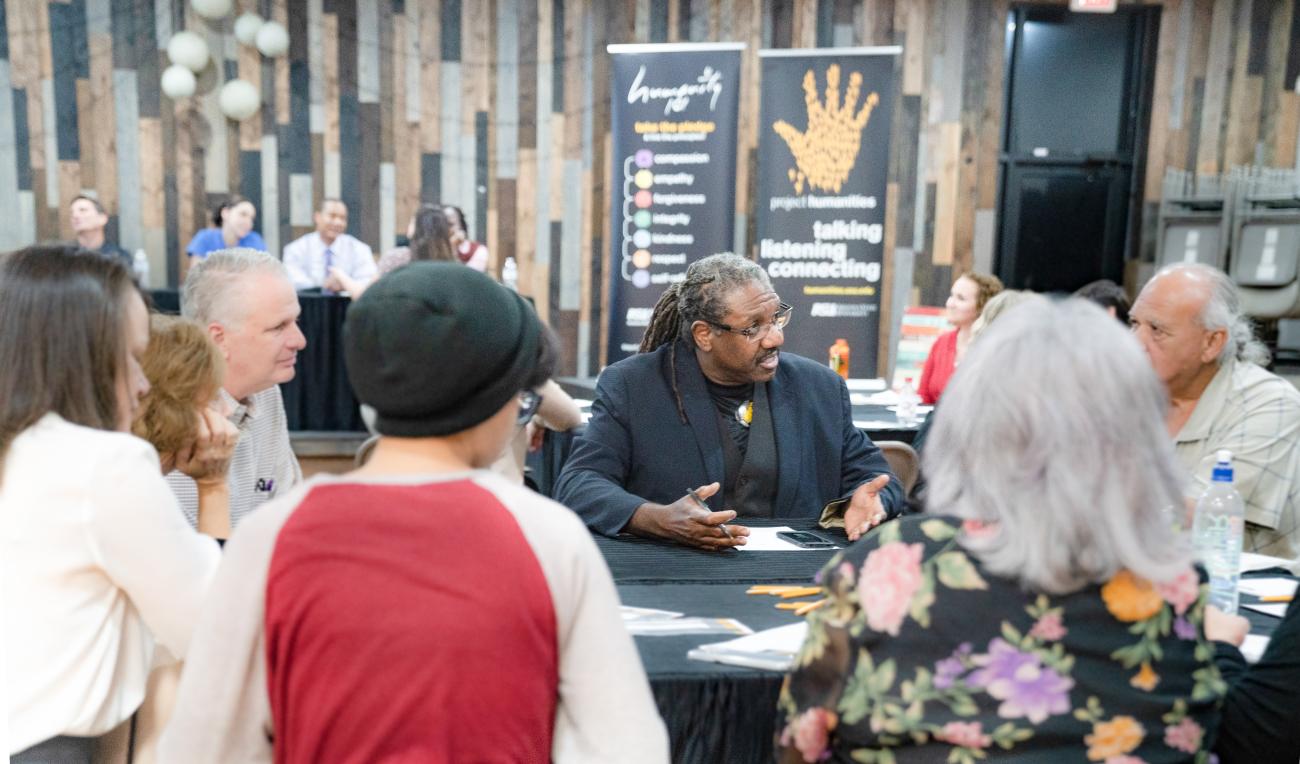 Founding Director
Dr. Neal A. Lester
Neal A. Lester, PhD, is Foundation Professor of English and Founding Director of the multiple award-winning Project Humanities initiative at Arizona State University. With expertise in African American literature and culture, Dr. Lester has authored or edited seven books and myriad essays and chapters on topics ranging from the race and gender politics of hair, Black masculinities, and African American folklore, to Toni Morrison's children's books. In addition to his publications on ntozake shange, Alice Walker, Sapphire, and Zora Neale Hurston, Dr. Lester has done pioneering work on the Nword, having created and taught the first college course on the Nword in the US.

His expertise on cultural appropriation, on everyday lessons in privilege and bias, and on humanities and entrepreneurship is nationally and internationally recognized. His expertise has led to interviews with CNN, USA Today, Good Morning America, The Special Report with Reva Martin, Newsweek, Your Teen (for Parents), Arizona Horizon, Raising Arizona Kids, Arizona Republic, Ahwatukee Foothills News, and The Chronicle of Higher Education. He has lectured in Ghana, Pakistan, China, Mexico, Italy, and Korea.

An award-winning teacher and popular radio guest, moderator, and panelist, Dr. Lester is editor of a forthcoming collection on global social justice, to be published in 2023 by the Modern Language Association, and guest editor of the special issue of Humanities on the topic of "African American Children's Literature."

In January 2022, Dr. Lester received Arizona State University's inaugural Dr. Martin Luther King, Jr. Servant-Leadership Faculty Award, an accolade that follows other such MLK recognitions from the City of Tempe (AZ), the City of Phoenix (AZ), the Town of Paradise Valley (AZ).
In April 2023, Dr. Lester became the 21st recipient of the Gary Krahenbuhl "Difference Maker" Award, presented by the ASU College of Liberal Arts and Sciences, for his sustained and impactful work as a faculty member whose teaching, research, and service center social justice and its connection to humanity.
Teaching
Dr. Lester Introduces African American Literature I (Beginning to Harlem Renaissance) via Short Videos
Collections & Videos
Explore the collections and stories within Dr. Lester's office.
Research by Dr. Lester
As a scholar of African American literature and culture, Dr. Lester is often called upon by local, national and international media and communities to offer commentary on the state of US race relations, past and present. Such commentaries cover such topics as the race and gender politics of hair, the Nword, cultural appropriation, and privilege and bias.
General categories of his research expertise are: Race Relations in America, Cultural Appropriation, the Nword, Politics of Hair, and Social Justice through Things and Stuff.