By Hana Khalyleh – Feb. 12, 2015 (main photo by Bruce Platt)
The 2015 Invisible Heroes Awards were presented Feb. 3, 2015, at the Mount of Olives Lutheran Church. The recipients, Neal Lester, Donna McHenry and Robbie Fields, were selected by United Gay Informed Men of African descent (UGIMA) for recognition of their activism within the LGBT and African-American community.
According to Jason Green, co-facilitator of UGIMA, the awards are based on the principles of Kwanzaa and are awarded to prominent figures at the forefront of activism for racial and LGBT equality.
Neal Lester
Neal Lester, a straight ally and professor of English at Arizona State University, was the recipient of the Umoja (unity) award. He is the founding director of Project Humanities, which, according to its website, is a program that's "a leader in local, national, international conversations about the breadth, depth, and value of humanities study and humanist practice and understanding across disciplines and communities."  
According to Lester, Project Humanities hosts workshops and events at ASU and across the valley, with the goal of spreading awareness about racial, gender, and sexual inequality.
"We need to find a way to talk about our differences in a way that doesn't point fingers," he said. "The idea is to get people to think in ways that they haven't thought before."
Lester has published on heteronormativity in children's books, feminism, and intertwining conversations about race, gender and sexuality.
"The main challenge has to do with acknowledging that no community is monolithic," he said. "Every individual is a member of multiple communities simultaneously."
Battling oppression within any community, Lester said, begins with a shared understanding that one can suffer from racial or sexual inequality on an individual level while still fighting against oppression that the entire community endures.
"Just because there's a shared oppression, doesn't mean you are free from oppression from within that group," he said, in regards to alienation and underrepresentation that the trans community and the African-American community sometimes endure within the LGBT community. "Once there's awareness, there's a sense that people who are socially aware are actually having this conversation in the community, and that is what makes the difference."
External URL: http://www.echomag.com/invisible-heroes/
Lester touted as 'Invisible Hero'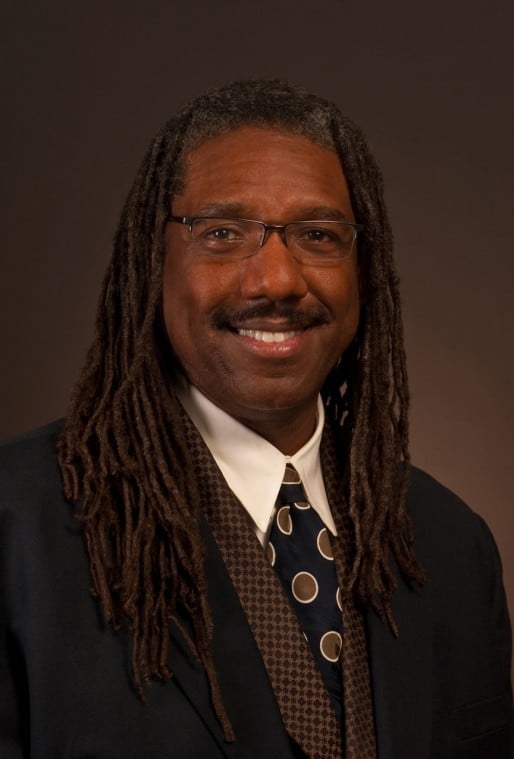 Neal A. Lester, PhD, is a Foundation Professor of English, Associated Vice President of Arts and Humanities and Director of Project Humanities at Arizona State University.
If academia were Hollywood, it would be sweeps season for Ahwatukee resident Neal A. Lester.
Lester, who is the founding director of Arizona State University's Project Humanities and Foundation Professor of English, was presented with the 2015 Invisible Heroes' "UMOJA" Award at a Feb. 3 ceremony at Mount of Olives Lutheran Church in Phoenix. It is Lester's sixth award in less than a year.
Green said each year at Invisible Heroes, his organization gives out three awards based on the principles of Kwanzaa. "Umoja" is the principle of unity, stressing the importance of togetherness for the family and for the community.
The award was established in 2010 by UGIMA to recognize the hidden or invisible history of current and past figures in the black and LGBT community. Past honorees include singer Sylvester, actor Paul Winfield, writer Langston Hughes, entertainer Josephine Baker and comedian Jackie "Moms" Mabley.
Lester and Project Humanities have received major accolades since the project was founded just over three years ago, demonstrating the rapidly growing success and impact of this university initiative.
Last month, Lester was presented with the 2015 Francis March Award by the Association of Departments of English in Vancouver, Canada.
External URL: http://www.ahwatukee.com/community_focus/article_cc42b02c-c0e5-11e4-9bf3...